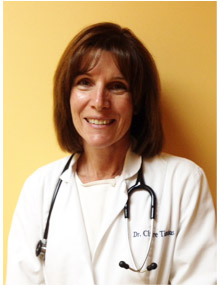 Dr. Timbas studied animal anatomy and physiology at Cornell University where she received her Bachelor's degree in biology in 1988. She was graduated in 1992 from Tufts University School of Veterinary Medicine and has practiced exotic and companion animal medicine and surgery in privatepractice since then.
Dr. Timbas has professional interests in primary care and geriatric medicine, public health, zoonotic diseases and end of life care. Dr. Timbas is a member of the American Veterinary Medical Association, the New Hampshire Veterinary Medical Association, World Vets, the Mt. Sunapee Ski Club and is a USSA alpine official.
Away from her responsibilities at the animal hospital, Dr. Timbas likes to spend time with her human and animal family and friends. She also enjoys "anything outdoors". Some of her interests include skiing, tennis, sailing, hiking and gardening.
Dr. Timbas' professional mission is to provide the highest quality, compassionate veterinary care possible for every one of her patients.